Home
Any sufficiently advanced technology is indistinguishable from magic.
---

Singapore's Leading Proprietary Trading Firm
Making the trading world more efficient through technology.
As Singapore's leading proprietary trading firm, we leverage on technology to provide liquidity to global financial markets. Our trading is based on our own models, using our own capital, and done at our own risk.
We make markets more efficient through our market making and arbitrage strategies. Integrity is at the core of our trading and we strive to improve the market by providing fair and competitive prices.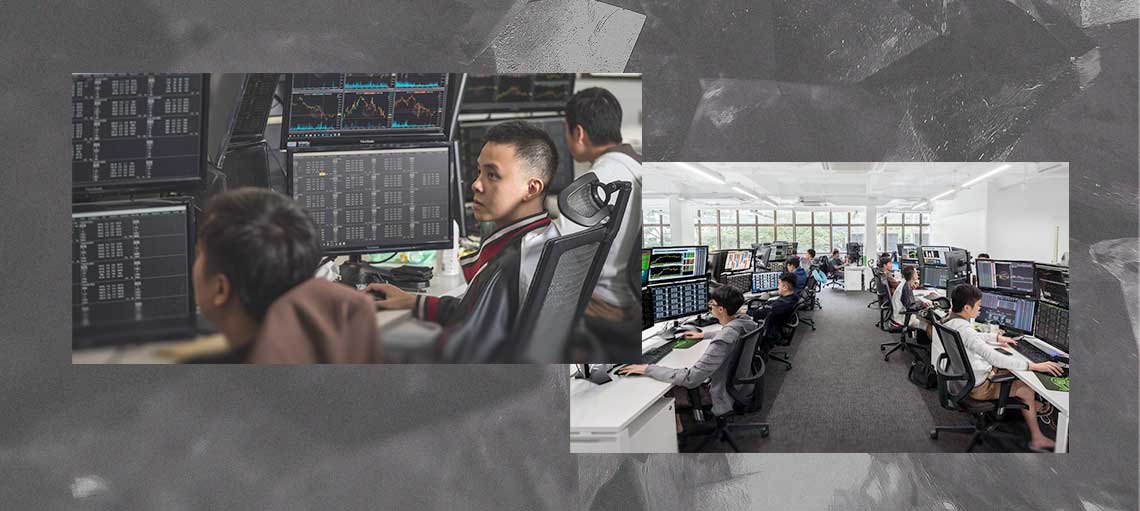 While technology and automation is the heart of modern trading, we believe that trading is as much science as it is art.
The Science
Our strategies are driven by data and facts. We adopt an uncompromising attitude towards intellectual rigour and test each of our hypothesis meticulously, trading with a quantifiable edge by developing quantitative models, exploiting pricing inefficiencies, and taking calculated risks.

In practice, our trades are supported by well written and reliable algorithms that execute at high frequency with low latency.
The Art
The problems we tackle are not often well defined. They rarely have clean and easy solutions. While clear process and logical thought is necessary, imagination is arguably more valuable when dealing with a huge set of unknowns.
In particular, when approaching new and complex problems, creativity in the selection of datasets and variables can often produce surprising insights.
---
People at Genk Capital are constantly working to solve interesting and challenging problems. We like to think independently, but work collaboratively as a team. We do not have a corporate hierarchy and ideas can flow freely. Criticism is always encouraged as we believe that tackling hard truths can lead to rapid improvement.
Although traders and engineers focus on different components within the trading ecosystem, they work together seamlessly to achieve a common goal. If you have a passion for technology or trading and feel that Genk Capital's culture can help you develop your full potential, send us your resume.
---
Engineers

We are as much a technology company as we are a trading firm. While our traders are focused on finding an edge in the markets, our engineers are determined to provide support through sophisticated in-house technologies. By delivering solutions that can operate at peak efficiency even in extreme conditions, engineers at Genk Capital make a powerful and lasting impact to the team.

Traders

We believe in approaching trading with intellectual rigour and moral integrity. When markets are open, our traders are focused on executing the best trades. Outside trading hours, they shift their focus to checking positions, reviewing trades and developing strategies. The rewards of hard work comes naturally when traders see the impact of their algorithms in the market. We do not expect new traders to have experience in finance and economics. Rather, we place more value in how they think and learn.